Graston Technique Specialist in Lee's Summit, MO
Graston Technique is a soft-tissue therapy that is used to find the knots in the muscles and reduce the pain. It also helps your body to move more freely. Our specialists at Prime Physical Therapy can perform this manual therapy. For further guidance

contact us

or

book an appointment online

. You can also visit our clinic at 1161 NE Rice Rd Lee's Summit, MO 64086.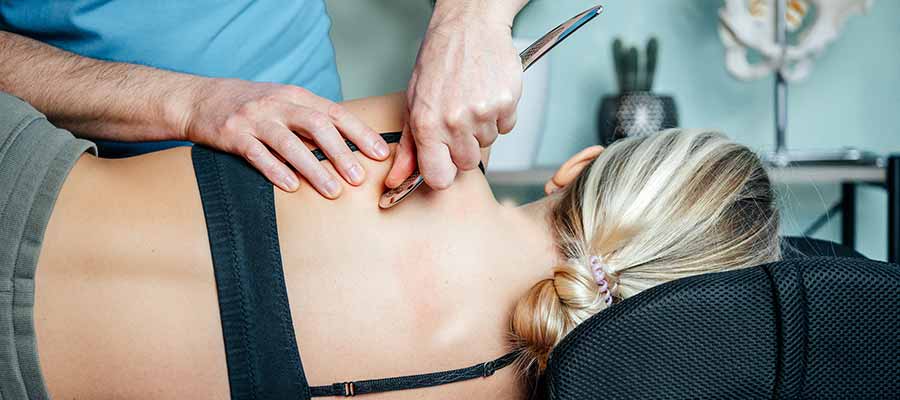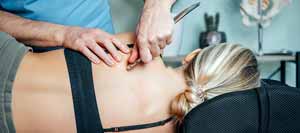 Table of Contents:
What is Graston Technique?
What are the benefits of the Graston Technique?
What conditions is Graston Technique used for?
What can I expect during and after treatment?
Physical therapists have many techniques and therapies in their toolbelt that they can use to help individuals overcome injuries and conditions. One of these techniques is called the Graston Technique, which is like an intensive massage that can reduce pain and restricted mobility in effective ways. Learn more about the Graston Technique below!
What is Graston Technique?

The Graston Technique is a patented form of soft tissue mobilization (STM) therapy performed by physical therapists and chiropractors. STM therapy, in turn, is a specialized type of massage therapy that focuses on restoring normal function to injured or damaged structures. In contrast, regular massage therapy merely aims to work out stress from the body.

The form of STM therapy known as the Graston Technique helps break down scar tissue and stretches connective tissues to rearrange the structure of those soft tissues in a more optimal way. The soft tissue that the Graston Technique works with includes muscles, ligaments, tendons, fascia, and others. In these ways, the Graston Technique helps restore function to your soft tissues so you can move about more freely.

The Graston Technique works using several stainless-steel instruments that are concave and convex in shape with rounded edges. As such, they aren't sharp, serving to scan over your skin to detect damaged areas of connective tissue. These areas will feel grittier than the healthy tissue.

After locating areas of damaged connective tissue, the physical therapist uses those tools to break up the scar tissue and stretch the remaining connective tissue with a cross-friction massage. Cross-friction massage involves movement against the grain of the scar tissue and re-introduces small amounts of trauma to the tissue to trigger increased blood flow to the area and promote healing.
What are the benefits of the Graston Technique?

Soft tissue injuries can significantly impact your ability to move and be functional throughout your day, whether you're at home, work, or out in the community. The Graston Technique is beneficial for such soft tissue injuries in several ways. Here are some of the benefits of the Graston Technique for soft tissue injuries:

• Decreased treatment time
• Quicker rehabilitation and recovery periods
• Reduced need for anti-inflammatory and pain-relieving medications
• Improved or resolved symptoms with chronic pain conditions once considered permanent
What conditions is Graston Technique used for? 

As mentioned, the Graston Technique is used for soft tissue injuries and conditions. However, there are various types of soft tissue injuries and illnesses. With that in mind, here are some injuries and conditions that the Graston Technique that is commonly used for:

• Achilles tendon injuries
• Carpal tunnel syndrome
• Cervical sprains or strains
• De Quervain syndrome
• Fibromyalgia
• Fracture pain
• Golfer's elbow, or medial epicondylitis
• Hamstring injuries
• Hip pain
• Iliotibial (IT) band syndrome
• Lumbar sprains or strains
• Muscle spasms
• Plantar fasciitis
• Rotator cuff injuries
• Runner's knee, or patellofemoral pain syndrome (PFFS)
• Sacroiliac (SI) joint pain
• Tendonitis
• Trigger finger
What can I expect during and after treatment? 

Since the physical therapist is working with scar tissue when they perform the Graston Technique, it's common and normal to experience discomfort with this treatment. This discomfort should not cause you undue pain. Many people even find that the treatment feels good. Practitioners sometimes use ultrasound or heat therapy before proceeding with the Graston Technique in order to warm up the soft tissue and make it easier to work with. The physical therapist will spend around 30 to 60 seconds on each area they are treating. As such, sessions typically last between two to ten minutes. 

Many patients find that they feel much better after receiving the Graston Technique than before, much in the same way that you feel much better after a regular massage. Still, some redness and mild bruising may occur in the treated areas, as the technique does inflict mild trauma to the scar tissue for healing promotion purposes. This redness and mild bruising are normal and should dissipate within a couple of days. Your physical therapist will provide instructions for how to ease any redness, bruising, or discomfort after your session with them.  The Graston Technique has helped many individuals heal and feel better from soft tissue injuries or conditions. We proudly provide the Graston Technique at Prime Physical Therapy. If you'd like to learn more about this physical therapy service, please call us! We also welcome you to schedule an appointment with us through our website or by giving us a call. We serve patients from Lee's Summit, MO, Blue Springs, MO, Independence, MO, Raytown, MO, Lake Lotawana, MO, Greenwood, MO, Grain Valley, MO, and surrounding areas!