Orthopaedic Doctor in Lee's Summit, MO
If you are experiencing a bone or joint-related injury or pain that has restricted your movement, please visit an orthopaedic doctor as soon as possible. At Prime Physical Therapy, we have specialists who can treat any kind of problem including lower back pain, hamstring injury, knee pain, plantar fasciitis, or arthritis. For further guidance

contact us

or

book an appointment online

. You can also visit our clinic at 1161 NE Rice Rd Lee's Summit, MO 64086.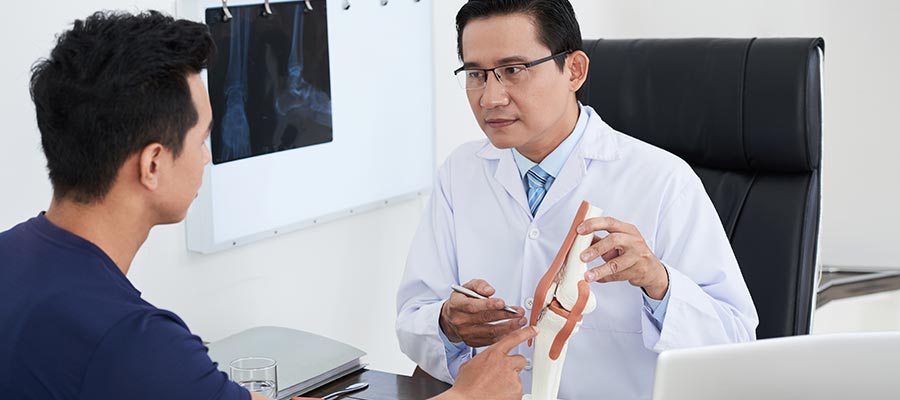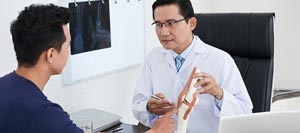 Table of Contents:
What does orthopaedic mean?
What do orthopedists treat?
What is the difference between orthopedic and orthopaedic?
When to See an orthopaedic?
If you've experienced an injury or have a condition that affects your bones, joints, tendons, muscles, or similar tissues, you may benefit from orthopaedics treatment. You can learn more about orthopaedics treatment below!
What does orthopaedic mean?

Orthopaedics is a specialized form of medical care that focuses on treating, diagnosing, managing, and preventing injuries and conditions that affect the musculoskeletal system. Your musculoskeletal system consists of various tissues in your body, such as your:

• Bones
• Cartilage
• Joints
• Ligaments
• Muscles
• Tendons
• Other connective tissues

Furthermore, there are several different types of orthopaedists. Orthopaedic specialists can refer to orthopaedic physical therapists, orthopaedic surgeons, or orthopaedic doctors. Each type of orthopaedic specialist serves a unique function.

For example, orthopaedic doctors can diagnose musculoskeletal conditions or injuries and treat injuries with braces, splints, casts, and other treatments necessary for immediate care or injections to relieve pain. Orthopaedic surgeons provide surgical care for individuals whose musculoskeletal condition or injury is severe enough to need surgery. Finally, orthopaedic physical therapists offer specialized physical therapy to help individuals recover from an injury or surgery. Orthopaedic physical therapists can also help individuals prepare for surgery in ways that increase their chances of success and quickens their recovery.

In this way, orthopaedic specialists all work together. Orthopaedic doctors provide pain relief and immediate care for acute and chronic injuries, Orthopaedic surgeons provide surgical care, when necessary, while orthopaedic physical therapists provide care for individuals to recover from injuries and surgery.
What do orthopedists treat?

As the musculoskeletal system comprises a wide range of tissues in your body, they accordingly treat a wide variety of injuries and conditions. Here is a list of some of the injuries and conditions that orthopaedists commonly treat:

• Achilles tendon injuries
• Ankle or knee sprains
• Arthritis
• Bone fractures
• Bone tumors
• Bursitis
• Carpal tunnel syndrome
• Degenerative disc disease
• General musculoskeletal pain
• Herniated discs
• Hip dysplasia
• Hip pain
• Low or mid back pain
• Muscle strains
• Muscular dystrophy
• Neck pain
• Osteoporosis
• Plantar fasciitis
• Rotator cuff injuries and other shoulder dislocations, sprains, or strains
• Sacroiliac (SI) joint pain
• Sciatica
• Scoliosis
• Sports injuries
• Tendonitis
• And others
What is the difference between orthopedic and orthopaedic? 

There is no substantial difference between the terms "orthopedic" and "orthopaedic," as both terms refer to medical or healthcare specialists who focus on the health of the musculoskeletal system. As such, you can use both terms interchangeably. The actual difference between each term is merely semantic, as "orthopaedics" is often regarded as the academic and British spelling, while "orthopedics" is considered the Americanized version.
When to see an orthopaedic?

As there are different orthopaedic specialties, there are also other scenarios where seeing an orthopaedic specialist is necessary. Thus, the situations that warrant seeing an orthopaedic specialist depend on your needs. If you have suffered a musculoskeletal injury that requires casting, bracing, splints, or other immediate treatment, or are dealing with a chronic pain injury, it's worthwhile to see an orthopaedic doctor. If your injury or condition requires surgery, you should make an appointment with an orthopedic surgeon. For when to see an orthopaedic physical therapist, here are some excellent reasons:

• You're dealing with pain in your muscles, joints, bones, ligaments, tendons, or cartilage
• You're looking for an effective way to recover quickly and thoroughly from surgery
• You're trying to avoid surgery for an injury or condition
• You want to limit your reliance on pain-relieving medications
• You want to reduce your chances of injury when exercising, playing sports, or preparing for a marathon-type event

For more information about orthopaedics treatment in Lee's Summit, Missouri, you can visit our website or call us at Prime Physical Therapy. We also welcome you to call us for an appointment or schedule one through our website. We serve patients from Lee's Summit MO, Greenwood MO, Blue spring MO, Lake Lotawana MO, Raytown MO, and surrounding areas!